Our valley has tons of great fishing options. 
We are very fortunate to live in the heart of some of the best fly fishing for trout in the Rocky Mountains.  We sometimes have clients stay in the area and book us for a week, and we can show them something different every day!
When should I go?  There is literally great fishing to be had somewhere in our valley on any given day all year round.  Yes, on very cold days during the dead of winter, fishing can be slower.  But even from December through February there can be many warm afternoons that offer very good wade fishing.  We usually don't start floating until March.
Runoff season 2022:  Colorado is in a drought but our snowpack was amongst the best in the state. Often in May and June of years with normal or above average snowpack, the Roaring Fork, Colorado, and Crystal become unfishable with increased flows and muddy water from snowmelt.  The Frying Pan is dam controlled, and should be fishable every day this year during runoff.  If you are planning ahead for a float trip on the Roaring Fork or Colorado, conditions will improve enough to probably make floats doable starting in the last week of June.  The speed of the current will make fishing more productive for most anglers as flows drop more at the beginning of July.

Float vs. Wade
We usually recommend that never-evers (complete beginners) do at least one wade fishing trip before booking a float trip.  When you're floating down the river fishing from a raft or dory, things happen quickly–and your guide is busy rowing the boat.  So it's important to already have some experience casting and handling a fly rod, as well as reading the water—which are both things that you will learn on a wade trip.  Very occasionally the fishing is so good that complete beginners can do well on a float trip, but generally, you will get a lot more out of a float trip if you have already spent time with your feet on the ground on a wade trip first.
Wade Trips:  By law, we are allowed to take up to 3 anglers with one guide.  If you have more than 3 anglers, you will need more than 1 guide.  Beginners usually receive more instruction & attention when there are no more than 2 anglers with a guide, since it's common for guides to have to spend a bit of time untangling and keeping everyone rigged up when they have 3 beginners.  Any gear you may need is included, but if you want to bring your own that's just fine too.  We recommend 4 or 5 weight rods for most wading trips–5 weight for the Roaring Fork, 4 weight for the Crystal or Frying Pan.
You should wear shorts during hot months, or fleece/ sweat pants during the colder months as your base layer under waders—jeans are not comfortable under waders.  Also be sure to wear socks—thick socks during colder months.  Hat, sunglasses (polarized), and sunscreen are also a must.  Of course we have all these for sale in the shop if you need them.
Float Trips:  A maximum of 2 passengers are allowed on float trips—there is a seat in front of and behind your guide, who is rowing the boat from the middle.  We are the only area shop that offers a discounted rate for only 1 passenger in the boat.  If there are 2 passengers and only 1 is fishing, the rate is still for 2 passengers because of the extra physical effort required to row the boat.  We recommend 5 or 6 weight rods for float trips which are all done on the Roaring Fork or Colorado River if you want to bring your own rod.
It's common for folks to want to bring a lot of stuff in the boat, but some of it is often not needed and space can run out quickly in a boat. You can leave your vest at home since the guide has all the gear needed–and lifejackets (which are provided) are required by law.  Hat, sunglasses, and rain jacket, are often all that's needed—and anglers who spend less time on their cell phone and more time with their flies in the water always catch more fish.  Our guides own both drift boats and rafts.  With the trend the past few years towards drought and lower water levels, you will often be in a raft if you float the Roaring Fork any time other than June-August.  We like to use drift boats whenever possible on the big Colorado River.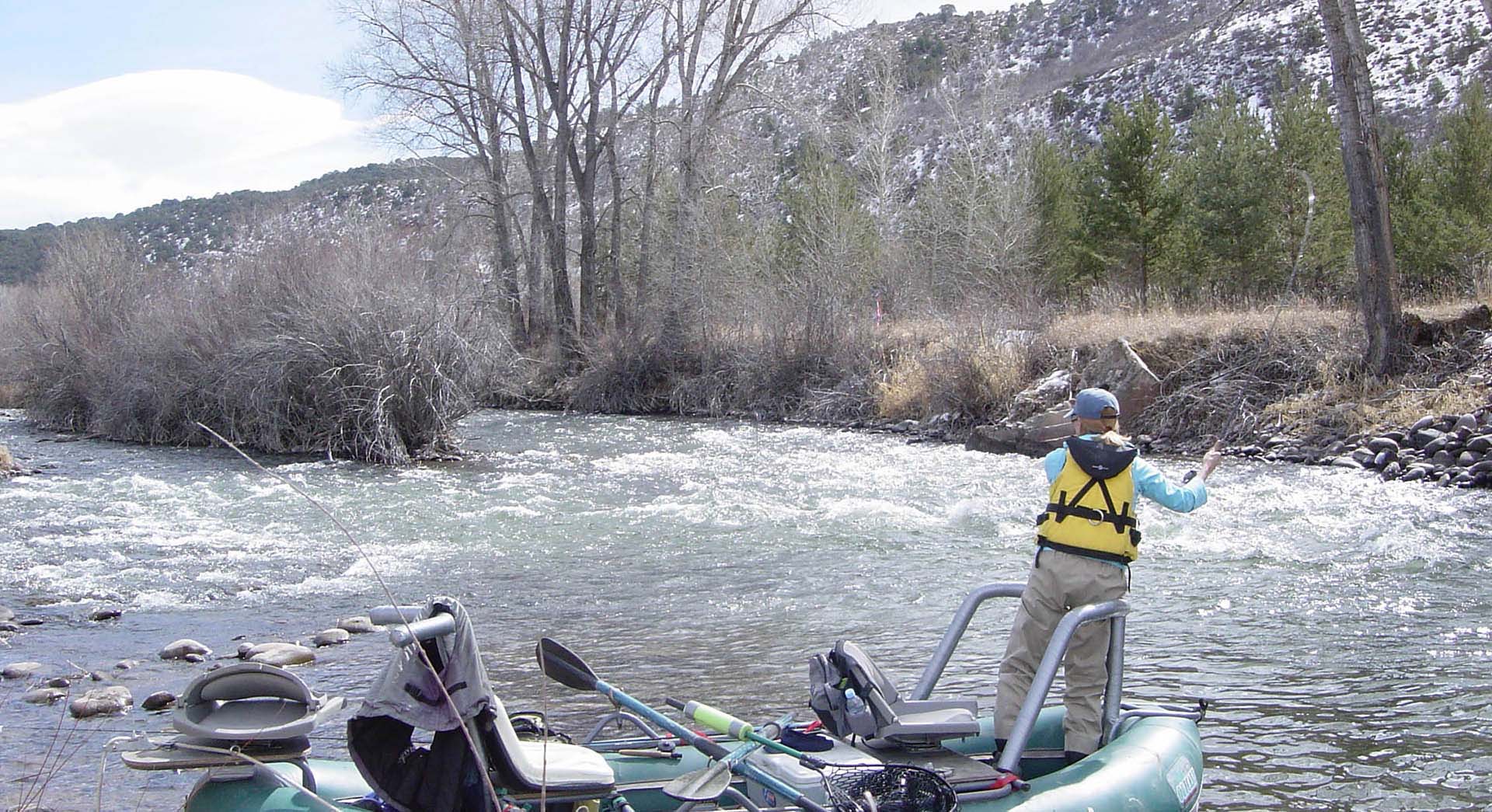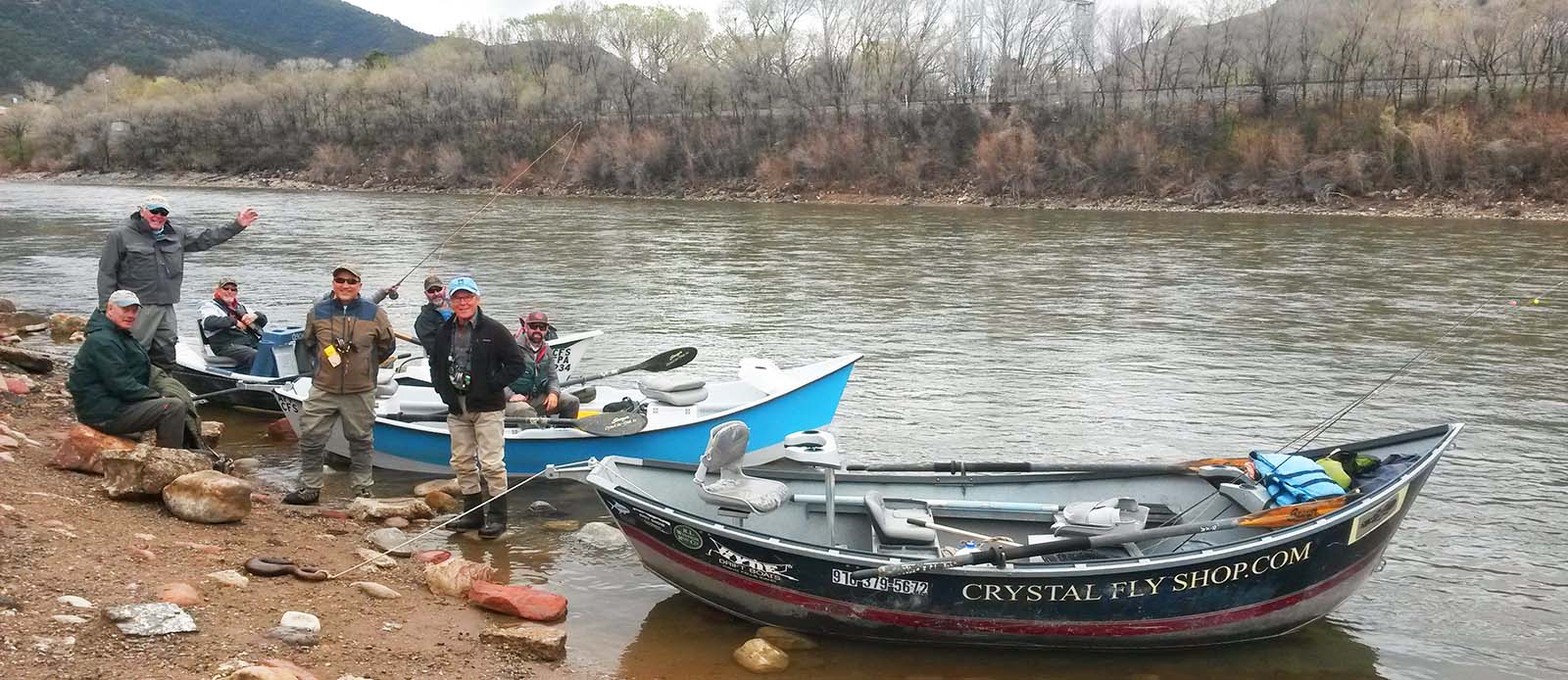 What we do:  We take folks on the Roaring Fork, Crystal, Frying Pan, or Colorado River and teach them the art of fly fishing in a river.  Trips are done on public waters unless clients want to upgrade to private water on wade trips.  Float trips do have the added bonus of being able to fish while floating through private stretches of river that anglers would otherwise not be able to access.
What we don't do:  We don't take people to stocked ponds on private property, which are all too often just a canned experience.  And we don't offer guided trips with spinning gear—all our trips are fly fishing.  We also don't kill fish on guided trips–we practice catch and release so that everyone can continue to enjoy the great resource we have here.
Minimum age of participants:  Kids should be 8 years old before trying fly fishing.  Most kids younger than that just don't have the attention span yet–and it's very hard to get younger kids into waders and boots as well.  It's important to give kids a positive fishing experience when they are young, so if you take your kids fishing when they are younger than 8 years, you may want to start them off with a spinning rod.
Meeting options:  The majority of our trips start with our clients coming by Crystal Fly Shop at 1087 Hwy 133 in Carbondale to meet their guide, get geared up, and sign the basic waiver required by law.  If our clients are staying in Redstone or the Crystal Valley–or fishing the Crystal River, we will usually have them come by our satellite location, Redstone Mountain Mercantile at 117 Redstone Blvd to start the day.  Occasionally, our guides will meet clients at a boat ramp where they plan to float–especially if they are staying in Glenwood Springs.  We will discuss all this when you book your trip, and confirm it a day or two before you fish.  If you have some shopping you'd like to do, feel free to come by early to either shop.  Otherwise, there isn't a need to show up any more than 15 minutes early or just come by at the time for which you are booked.

Timing of trips:  On 1/2 day (4 hour) trips, we recommend either a morning (8:00-9:00) or afternoon (1:00) start time.  3/4 day (6 hour) trips can start any time from 8:00 until 11:00 depending upon your schedule and fishing conditions.  Full day (8 hour) trips usually start at 8:00-9:00 AM.  During much of the year, there isn't a lot going on before 8:00 AM since water temps are usually cold and hatches not-existent at that time.  But sometimes when the weather and water temps are very warm–as in August and early September–we may want to make special arrangements with you and your guide to get an early start.  We are also available for evening trips that end at dusk for anglers who want to capitalize on those evening "Lightening Round" dry fly sessions that can be so great in the summer.
Lunch:  We have decided to stop offering lunch on 3/4 and full day trips in 2022 to keep our guide trip pricing as competitive as possible.  During covid outbreaks the past couple of years, there were times when we were not allowed to offer lunch, and we found out many anglers liked to pack their own lunch anyways.  If you are on a tight schedule and would like for the guide to pick up a lunch for you that can be worked into the guide's gratuity–let us know and we can provide that as well as the cold beverages that we will continue to offer on all guide trips.
Cancellations:  We have a cancellation policy of 48 hours before your trip is scheduled.  If you cancel within 48 hours of your trip, and your guide can't be re-booked you are subject to a 50% charge of the price of your trip.  It almost never happens, but if a client does a no-show on the day of their trip, they will be charged the full price of the trip. We will take a Visa, Mastercard, or Discover credit card number when you make your booking, but we don't charge you until you go, unless your guide trip is within 48 hours of when you book it.  We don't cancel trips because of rain (rain usually passes through quickly and often makes for good fishing).  If we have a very heavy rain which blows out the river with mud to make it unfishable, we will try to reschedule your trip or cancel it.