Private waters can often make a difference in today's world of fishing. We have a great portfolio of LOCAL private accesses for our guide trip clients–all at higher elevations where you can escape many of the warm water conditions of the lower valleys this summer.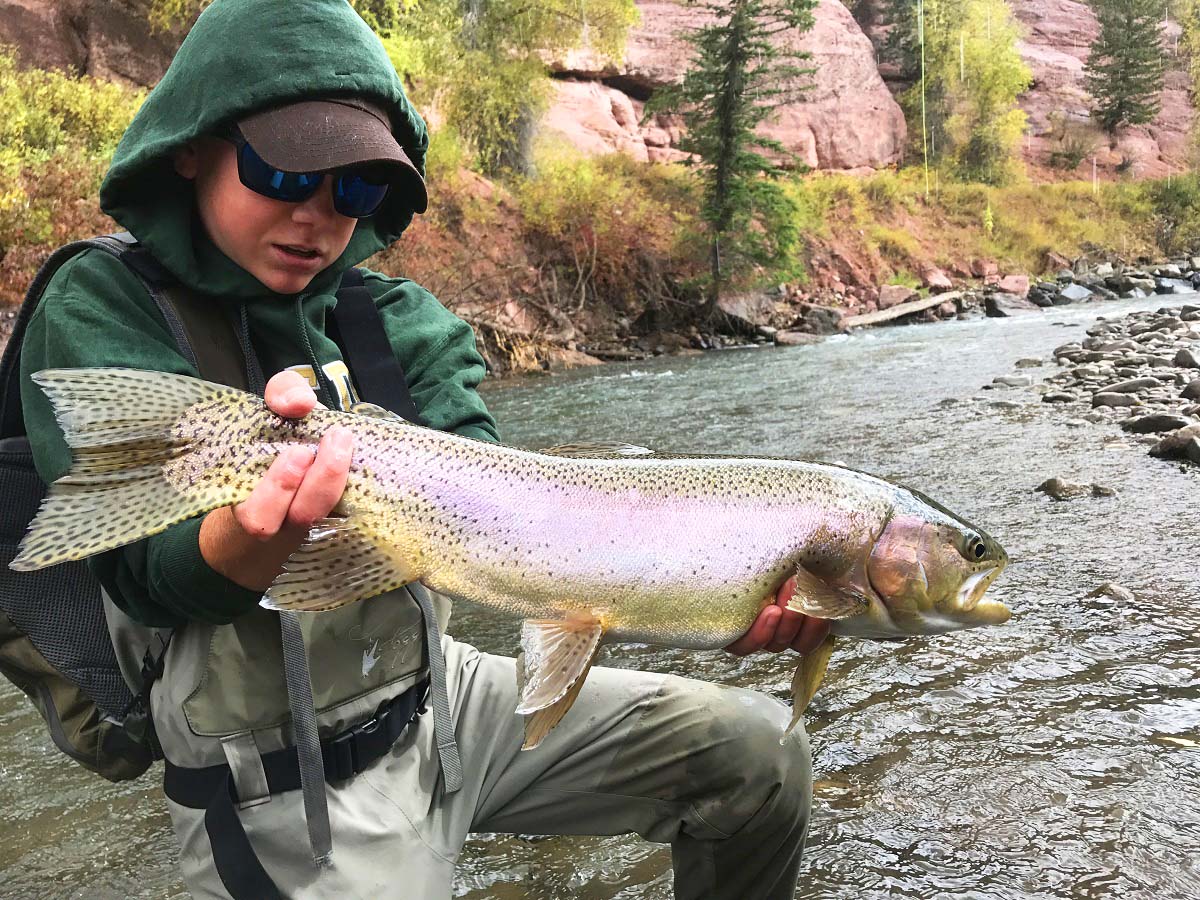 The Redstone Preserve
The Preserve is a one minute walk from our satellite location, Redstone Mountain Mercantile.  The Preserve offers approx. 1.5 miles of private access that is managed for fly fishing only, with a maximum of 4 anglers per day.   Our guides know this water intimately and we help manage it to ensure a high quality fishery.
Our trips on this property start with a visit across the street to obtain day access badges from the Redstone Inn, who are owners of the property along with Bob McCormick, former owner of our Redstone location when it was the Redstone Company Store.  Access to the property is easy for anglers of all ages and fitness levels, and fish are numerous–including some that are over 20 inches.  Rainbows and browns are predominant, and there are a few whitefish and cutthroat as well (a cutthroat pictured below).  This property is also ideal for any VIPs who may have security needs.

The Preserve is perfect for 1/2 day (4 hour) trips, with either a morning start (8 or 9 AM), or an afternoon start (1 PM).  We can make special arrangements pending availability for 3/4 day (6 hour) trips.  Full day trips (8 hours) can be available early season with cool water temps, but we sometimes discourage full day trips to minimize impacts upon this fishery during the heat of August and early September.
Per person rod fees (access fees) which are in addition to guide trip fees:  1/2 day:  $45;  3/4 day:  $65;  Full day:  $85

Crystal River Ranch–Home of the famous Crystal Mill.
Crystal Fly Shop is partnered up with the owners of Crystal River Ranch to offer guided trips on approximately 4.5 miles of private water on the upper Crystal River above Marble.  Guided trips to this special high altitude fishery are truly ADVENTURES–half jeeping expedition and half fishing.  This is a completely wild area on the only truly wild freestone river left in Colorado–and one of the most unforgettable places that you might ever fish.
The pristine headwaters of the Crystal River are some of the most beautiful you will find anywhere in America.   Insect hatches are just as abundant as fish–which are predominantly cutthroats and brook trout–along with cuttbows (rainbow/cutthroat hybrids).  These fish are on the larger side of the spectrum for high altitude trout—most are 9 to 13 inches–and they eagerly take a wide variety of dry flies.  We rarely fish this water with nymphs–occasionally we'll put on a beadhead dropper under a hopper in the deeper pools.  There is a wide variety of water types up here–pockets, pools, riffles, and runs–all full of fish–and it's not hard to catch a lot of fish up here for anglers of any skill level.
We only do 3/4 (6 hour) or full day (8 hour) trips to the Crystal River Ranch.  Due to the time it takes to drive to the property–which is on a very remote, one lane, high altitude 4-wheel drive jeep road above Marble–actual time spent fishing on a 3/4 day trip is about 4 hours, and on a full day trip fishing time is about 6 hours.  THIS TRIP IS NOT FOR THOSE WHO ARE FAINT OF HEART OR AFRAID OF HEIGHTS.  Along the Lead King Loop that we drive via Jeep towards the historic town of Crystal and this property, there are steep dropoffs from the edge of the road of hundreds of feet.
We do a maximum of 2 anglers per guide here, and you should plan on a little more than an hour of jeeping in from our Redstone location, and an hour of jeeping back out.  It's bumpy, very steep, remote, and wild—there is some pucker factor involved!  We strongly recommend that you stay in Redstone if you want to do this trip–if you are driving from Aspen or Glenwood, you will spend a lot of your day inside a vehicle.  We only offer this trip on weekdays due to off-road traffic on Lead King Loop and Schofield Pass on the weekends.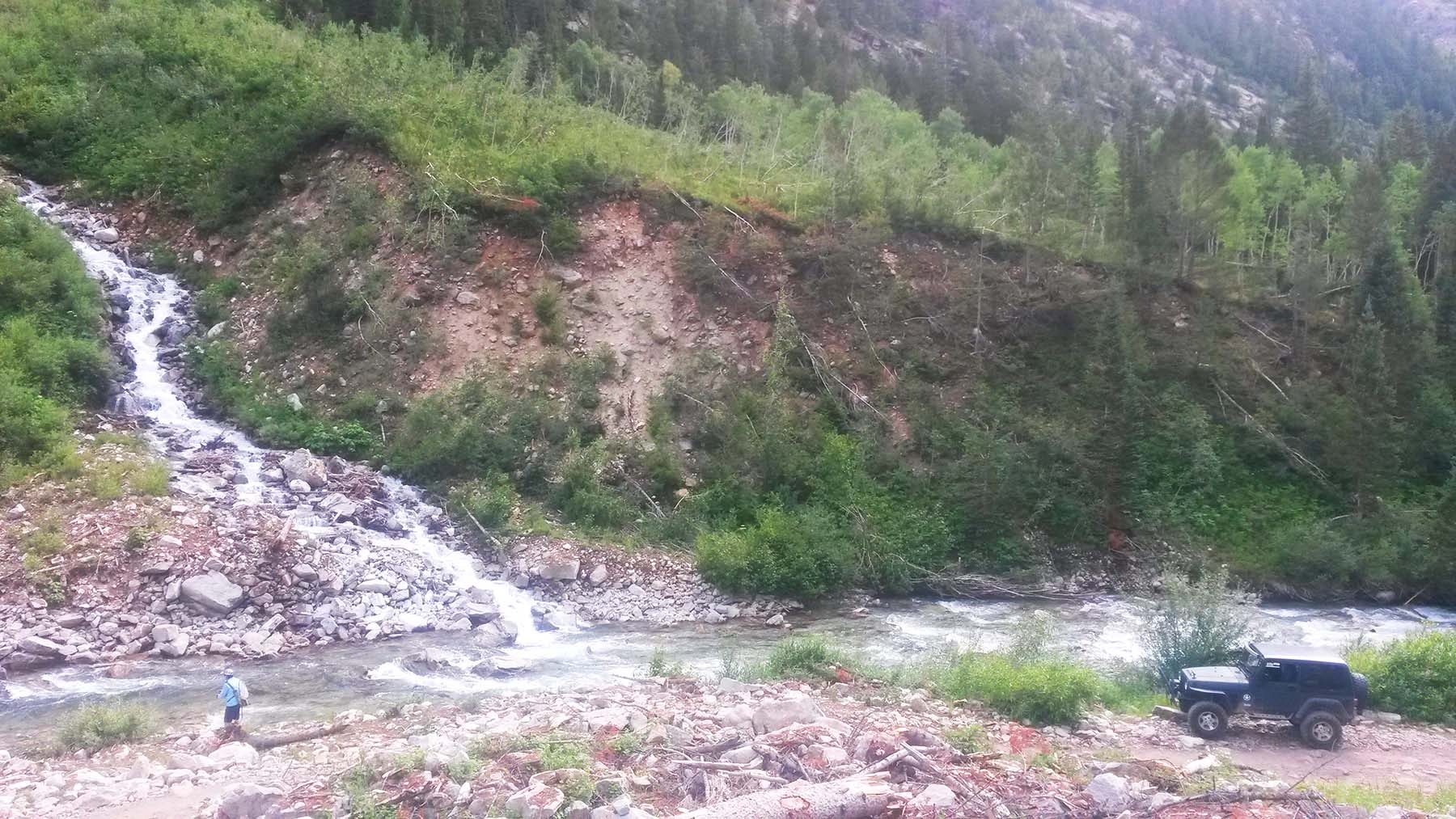 This is where our river comes from–the town of Crystal and Schofield Pass–not from Mount Sopris or McClure Pass.  Important tributaries that feed the lower Crystal River are Coal Creek and Avalanche Creek.  SUNSPOTS:  You may have noticed a lot of sunlight reflected in the water and mountain tops in these pictures—this is not Photoshop, this is Mother Nature.  The sun is more intense up here, so be sure to wear your sunscreen.
Rod fees for the Crystal River Ranch are $125 per person in addition to guide fees.  In a year of average snowpack, we offer trips here from around June 15 until Oct. 15.  In 2021, we will be able to start fishing up here in mid-May because of the lack of snow.  In a drought year like this, high altitude fisheries such as this are a great option during the warm months of August and early September when fisheries in the lower valleys are subject to afternoon closures due to high water temps.  High water temps are never an issue at 8500-9000 feet!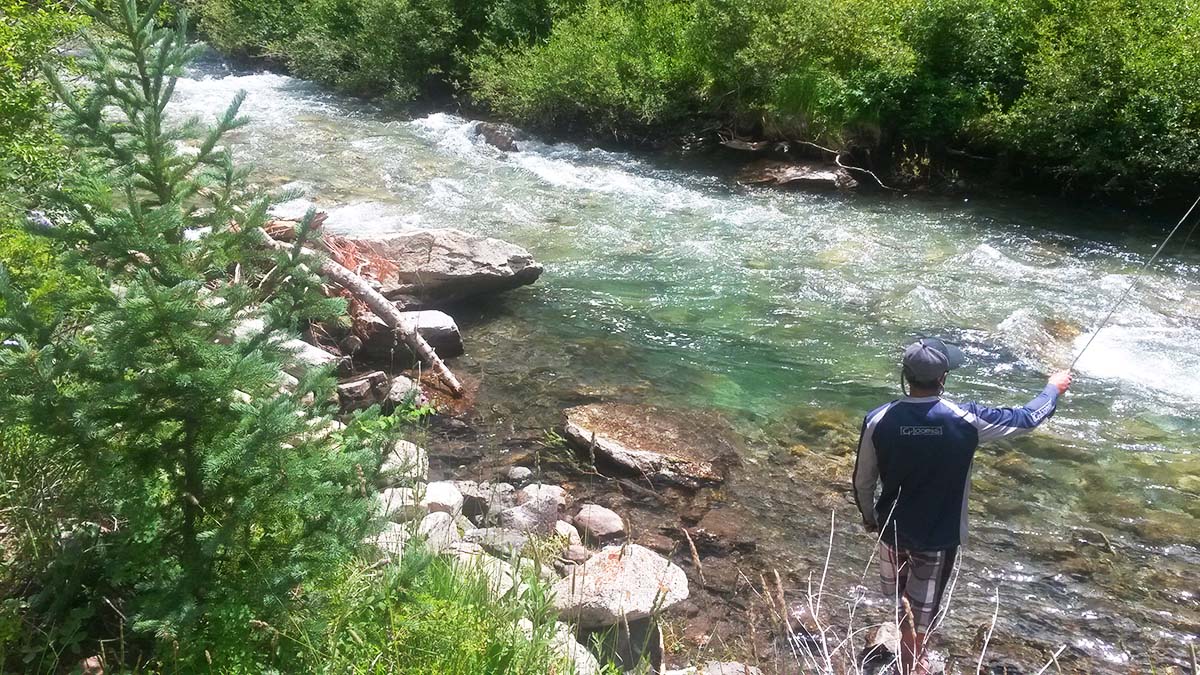 The historic ghost town of Crystal was a mining camp established in 1881 that produced silver, lead and zinc until abandoned in 1917.  The Cox family is actively restoring the Crystal Mill (on the National Register of Historic Places and one of the most photographed historic sites in Colorado), and many of the buildings in the town of Crystal.  Your rod fees to fish their amazing property are used to help fund these restoration projects.
They offer lodging here for those who truly want to get away from everything.  There are cabins (currently one features heated water) as well as camp sites for those who wish to pitch a tent.  Step back into a time that was simple and pure when people cared about things that truly mattered.
Past the Crystal River Ranch is Schofield Pass which leads to Crested Butte—one of the most dangerous 4 wheel drive jeep roads in Colorado (or anywhere).  Don't go there unless you know what you're doing!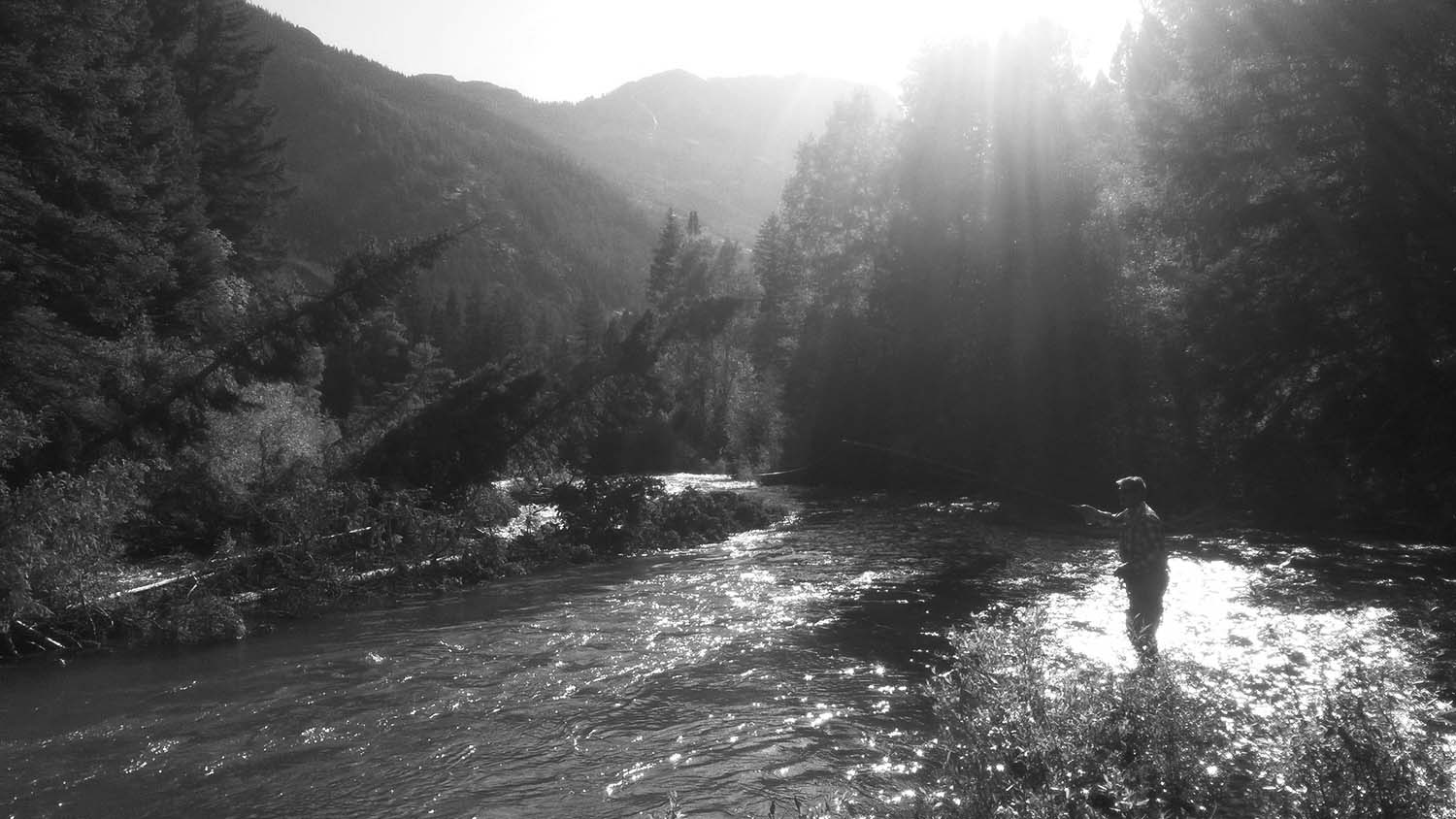 The Conservancy at the Darien Ranch
The Conservancy features 2 miles of private, fly fishing only access to our clients in a beautiful high altitude setting that is also a working ranch.  Not far from the Bogan Flats National Forest Campground, the Conservancy is between our other private accesses of the Redstone Preserve and Crystal (Mill) River Ranch.
As a fishery, it offers a great blend of these other properties with a great mix of fairly large fish that range from 9 to 20 inches, along with high altitude characteristics with rainbows, browns, cutthroats, brookies, cuttbows, and whitefish all present.  Forget the Grand Slam–go for the Full House with the Whitefish as your wild card!  We had a client land a 20 inch cuttbow here a couple of years ago in one of the deep pools that ate an 8 inch fish that he was in the middle of landing!  And it offers an amazing backdrop of scenery with meadows and trout stream beneath the shadow of Chair Mountain.

While there are a couple of areas that are easy to access for all fitness levels, the Conservancy features a lot of pocket water that is most easily accessed by individuals who are in fairly good physical condition.  The benefits of fishing pocket water is that fish tend to be very opportunistic and not very selective–and therefore somewhat easier to catch because they don't have much time to think about eating–and water temps also stay cool when lower altitude fisheries are warm and stagnant.
The Conservancy is a beautiful 10 minute drive from our Redstone location, and rod fees are $40 per person for a 1/2 day, $60 for a 3/4 day, and $80 for a full day, all of which are in addition to guide trip fees.  Fishing pressure on this property is very light, and we recommend it highly for anglers like us who personally like to cover a lot of water, get a bit of a workout, and usually reap the rewards by doing so.