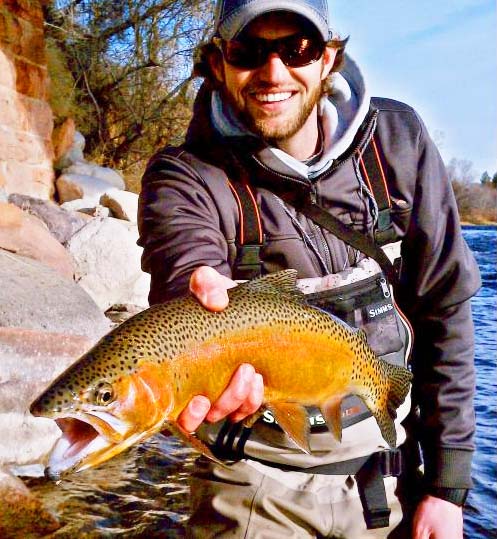 Crystal Fly Shop is in Carbondale — Smack dab in the middle of some of the best fly fishing in Colorado.
We are smack dab in the middle of the Roaring Fork Valley between Aspen and Glenwood Springs.  We are literally minutes away from officially designated Gold Medal fisheries—the confluence of the Roaring Fork and Crystal River is less than a mile from our shop.  The majority of float trips on the Roaring Fork start right here at the Carbondale boat ramp.  We are 15 minutes away from fishing on the Colorado River in Glenwood Springs (downvalley direction), and 15 minutes away from fishing on the Frying Pan River in Basalt (upvalley direction).  These "Big Four" major rivers of our valley –the Roaring Fork, Frying Pan, Crystal, and Colorado–are where we do all of our guided trips.  All of our guides live here and know our waters intimately.
Regionally, we are also close to lesser known–but abundant–creeks like Avalanche Creek, Maroon and Castle Creeks near Aspen; high altitude lakes such as Savage and Capitol, lakes and reservoirs such as Marble's Beaver Lake, Ruedi Reservoir, and warm water reservoirs Harvey Gap and Rifle Gap.  We are 45-60 minutes away from fishing on the Eagle and upper Colorado Rivers in the Eagle Valley.  Our shop is also a stop on the gateway for anglers headed from our valley over McClure Pass to the Gunnison, East, and Taylor Rivers.  Our shop does not offer guided trips at these areas, but these fisheries do provide additional opportunities for anglers who are passing through or staying in our valley.
Crystal Fly Shop has outfitted thousands of people locally and worldwide for their fly fishing adventures.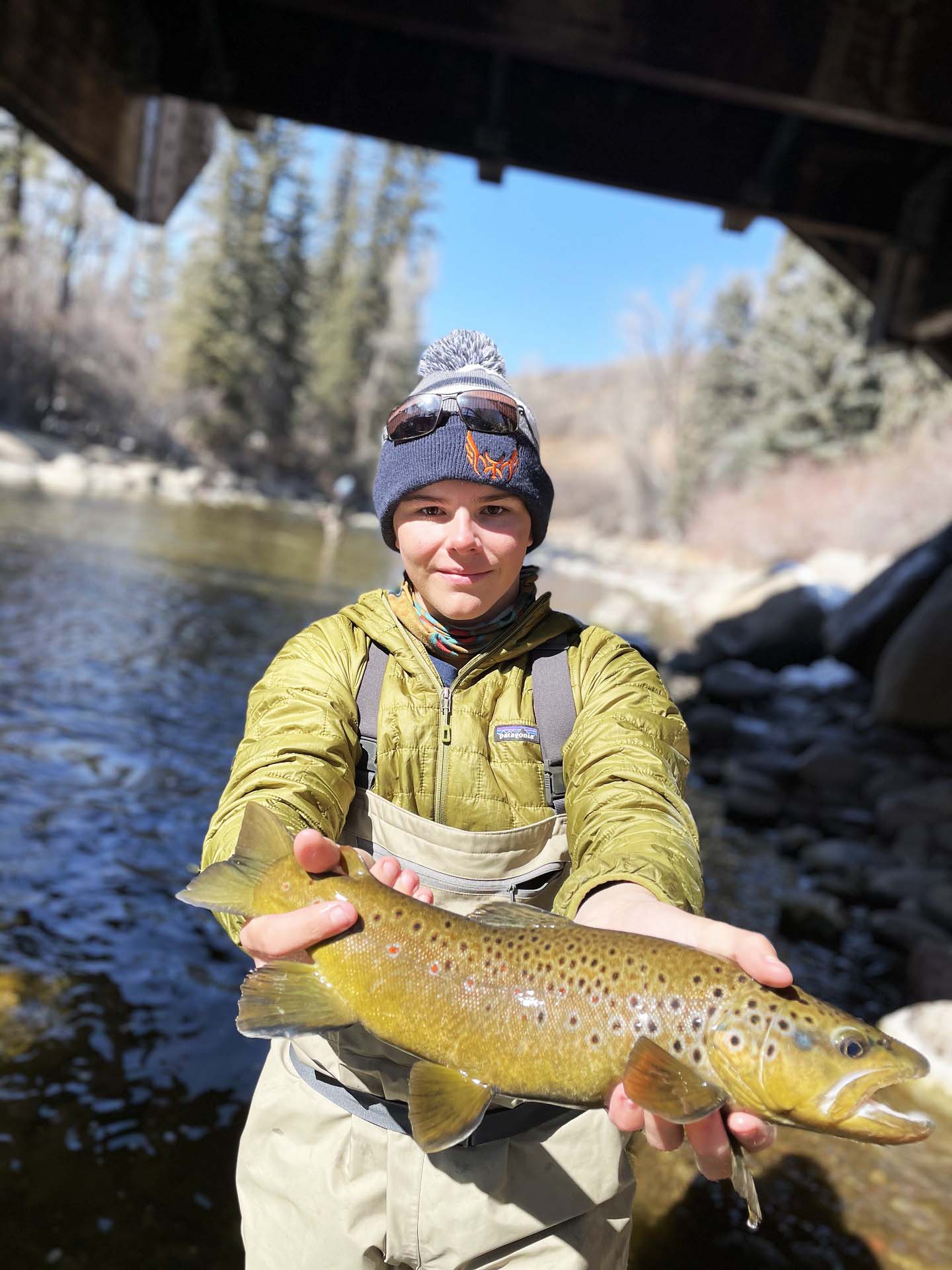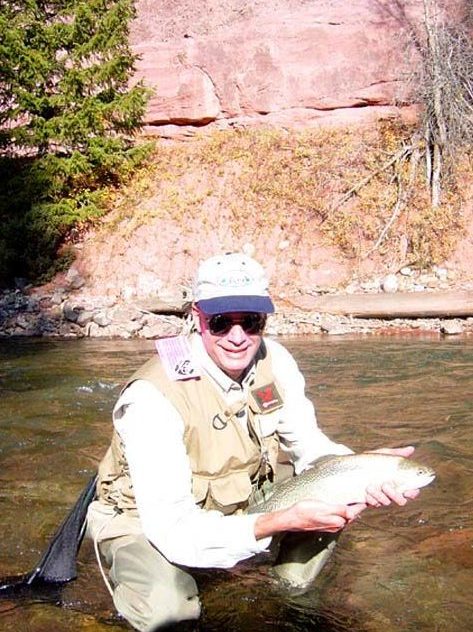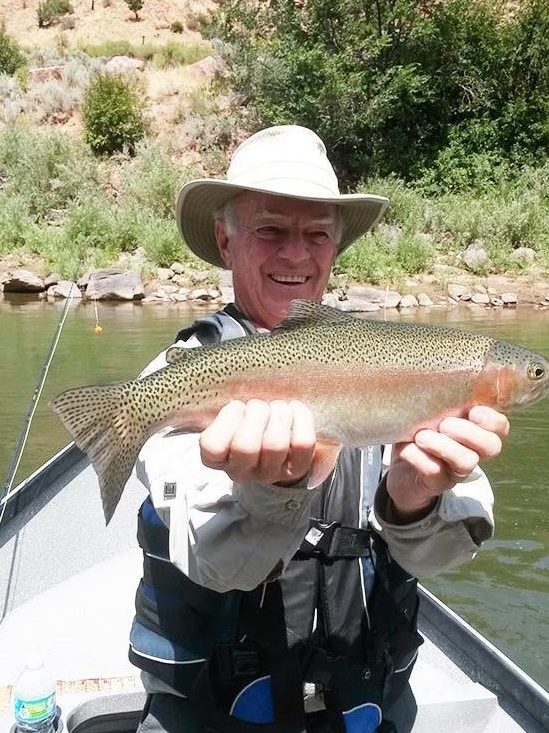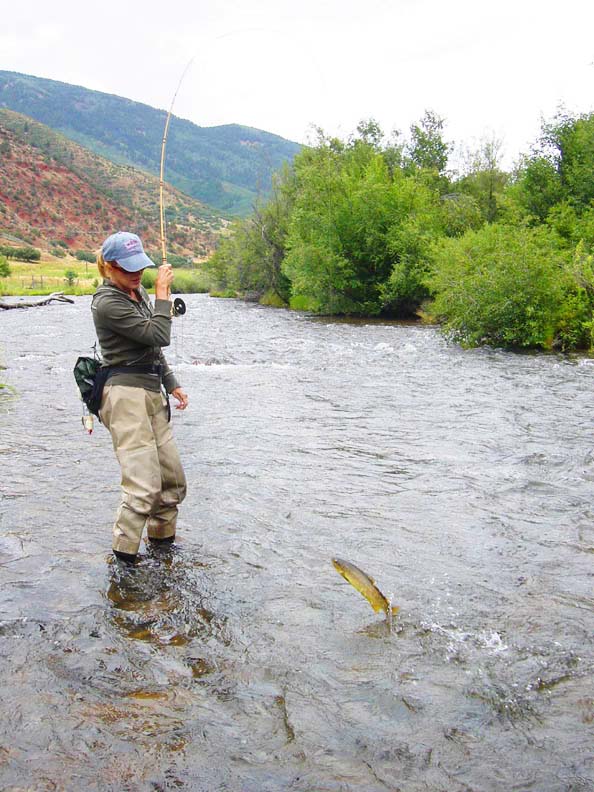 The Roaring Fork River is where our guides and customers probably spend the most time fishing.  In the 70 mile stretch from its headwaters above Aspen, it drops more in elevation than the Mississippi River and many miles of it are officially designated as Gold Medal waters because of the abundance of trout, as well as large trout.  It is also home to the oldest Wild Trout Waters in the state, from Upper Woody Creek to Aspen.  We offer guided wade trips on the Roaring Fork in this stretch.  The majority of our guided float trips on the Roaring Fork happen between Carbondale and Glenwood Springs, where the gradient of the river flattens a bit and it becomes a bigger river below the confluence with the Crystal River in Carbondale.  The Roaring Fork is world famous because of an abundance of hatches from Green Drakes and Caddis to PMDs and BWOs–and it features a huge variety of water types from steep pocket water in the upper sections to meandering flat bends down low.  It is an amazing blend of freestone river with tailwater hatch characteristics, but is technically not a true freestone because of some diversion towards the Front Range at its headwaters.  As a fishery, it is loved by clients and guides because of its consistent reliability of hatches and feeding fish.
The Crystal River is a truly wild river–the only true freestone river (unimpeded by a dam) that remains in Colorado, and it runs approximately 35 miles between Marble and Carbondale, where it joins the Roaring Fork River.  In this stretch of the Crystal, you will mainly find Rainbows and Browns, as well as Rocky Mountain Whitefish.  There are also a few Cutthroat and Brook Trout present—both of which become more prevalent in the upper stretches of the Crystal River above Marble and towards its headwaters at Schofield Pass.  We offer wade trips on the Crystal River–both public and private water guided trips, and many of our fly fishing trips on the Crystal start in Redstone.   The Crystal River is not as famous as the Roaring Fork or Frying Pan, but offers unique and quality fishing experiences in it's own right.  The Crystal is not nearly as crowded as other rivers in the vicinity, so it's easier to find solitude and the fish are not as pressured or educated as they can be on other local rivers.  The Crystal is pending official recognition as Wild and Scenic, a designation reserved for very few rivers in America.
The Colorado River from Glenwood Springs to Rifle is arguably the best section of that river in the state.  We offer mainly guided float fishing trips on the Colorado River below Glenwood, although we will occasionally do a few wade trips down on the big river (mainly in the spring).  It is much easier to access in a boat, and the deep runs, pools, and pockets of the Colorado River hold mystery as well as big fish—you just never know what you might find here.  Booking a guide to fish the Colorado often makes a big difference, since fish tend to be more spread out in the river–and water column–than other local rivers.  Anglers who are persistent and fish hard throughout the day are rewarded with hard fighting, quality trout that are some of the hottest fish in the state.  The Colorado River tends to fish best in the spring, early summer, and autumn when water temps are 45-60 degrees.
The Frying Pan River is best known in its tailwater section that flows for 13 miles from the dam at Ruedi Reservoir down to the town of Basalt, where it joins the Roaring Fork.  Like many western tailwaters, the Frying Pan has very consistent hatches which make it a great little dry fly fishery throughout much of the year.  Drakes, PMDs, Caddis, BWOs, Craneflies, and Midges are all abundant—and access to the river is easy with a number of public pullouts along the Frying Pan Road, which makes it very popular.  Because of the angling pressure, its often been joked that the trout of the Frying Pan have Ph. D's in fly fishing–and the chess game of matching the hatch and giving proper presentations to picky fish is exactly what makes this river appealing to a certain class of fly fishers.  We offer guided wade trips on the Frying Pan on the lower 8 miles of river, and booking a guide here definitely helps most people get dialed in on the fly patterns, feeding patterns, and techniques needed to catch fish here.