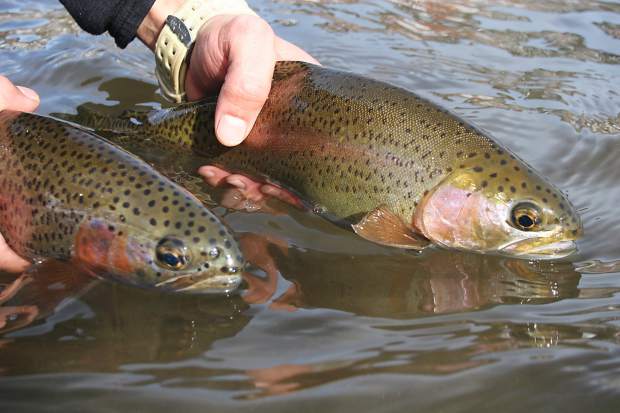 Mother's Day caddis. These three words make fisherman shutter in their wading boots as spring finally takes hold.
Though the Roaring Fork and Colorado rivers have good mayfly hatches, both are truly caddis rivers. The brachycentrus caddis, also known as the Mother's Day caddis is hatching in full force along the Colorado and Roaring Fork rivers right now. These insects hatch in such immense numbers that often times it appears as if it's snowing caddis flies, making it hard for drivers to even see out of their windshields.
Anglers should look for the hatch to begin around noon and last till 3 or 4pm. After mating, egg laying caddis return to the river in the last few hours of light which can provide equally exciting dry fly opportunities. The best hatches will take place on the hottest days. Timing these heat waves can be a bit tough. If it's too hot for an extended period of time, the rivers do have the potential to blow out and become too muddy to be fishable. Ideally anglers want cool overnight temps mixed up with warm daily highs.
Tandem dry-fly rigs consisting of size 12-16 caddis dries like variants, stimulators, elk-hair caddis and the like all fish well. You'll catch fish dead drifting these but you'll often do more damage out there by skittering or skating your dry flies. I prefer to call our technique more of a "bumping" or "soft-skate" technique. Bring plenty of floatant … you'll need it!
When nymphing prior to the hatch, look to stonefly nymphs fished as your point fly trailed by various size 12-16 caddis larva and pupa patterns as droppers. Smaller attractor patterns such as princes, 20-inchers and San Juan worms also fish well. Obviously dry/dropper techniques can fish well, especially during the front end of the days hatch. Wet fly patterns like a soft-hackle peacocks and hare's ears are often killer dropper flies.
Currently we're seeing the heaviest hatches take place on the lower elevation waters around Glenwood Springs. Lighter numbers of caddis are being seen on the lower Roaring Fork and this hatch will really come to fruition by the end of this week. The weather looks ideal for caddis hatches of epic proportions. Get out there and soak up the sunshine and fish this magnificent hatch before runoff wipes it all away.
Kirk Webb